Food Safety Systems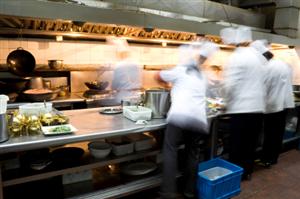 Food Safety Systems is a company that gives qualified advice to the hospitality industry.
We have many years experience in the food industry and understand what is required for you to be able to run your food service operation in a way that will meet and exceed your customers expectations. From working out the best kitchen flow for your business, to food safety training and food auditing services, food safety systems can add value to your business.
To help our clients achieve the highest standards of food safety, we offer the following professional services:
Food Auditing for Aged Care
The NSW Food Authority has mandated food safety audits for businesses that serve food to Vulnerable Persons. Food Safety Systems offers the services of an expert and certified 3rd party auditor who can conduct an audit in a very professional and effective manner. Food safety management is a tough and complex area of expertise, and only a professional and experienced auditor can effectively audit these systems best. James Shepherd from Food Safety Systems is registered as a regulatory 3rd party auditor for the NSW Food Authority (no. 24733), and Queensland Health, this means he can conduct the mandatory food audits required by these authorities. James also holds the National Food Safety Auditor (level 4 high risk) qualification from Exemplar Global (no.111946).
Food Handlers Training
For a company to have the highest standards of food safety and quality, it is imperative that their workforce is aware of their food safety obligations. To ensure that food handlers play their part in food safety management efficiently, it is important that they are provided with effective food safety training. Part of the food laws state that business owners must ensure all food handlers employed by the business have adequate skills and knowledge for the job that they are doing.
Food Safety Training
The food safety trainers at Food Safety Systems have had many years experience in different areas of the food industry which means we can train your staff in what they need to know about food safety, this can be done at your premises which means less downtime and a greater opportunity for all staff to attend.
Internal Auditing of Food Businesses
Food Safety Systems can provide internal audits to any hospitality business, highlighting areas that may need to be improved upon in order to help the business run smoother. We provide a detailed report which will highlight areas within your business that can be improved upon, food safety systems can also provide you with an analysis of workflow, staff time management, equipment usage, and compliance within the Food Standards Code and other relevant legislation.
Development of Hazard Analysis Critical Control Points (HACCP) Plans
A HACCP plan is an integral part of any food business, and can help to ensure that a food business serves only safe food in a practical and easy to understand way, the best HACCP plans are those that are tailored to your business. By developing a HACCP plan specifically for your catering operation your staff will find it easy to use which means it will become a part of their day as much as it is a part of yours. If you are unsure of what a HACCP plan is or why you need one? Contact us to find out.
Food Industry Consulting
A food industry consultant can be an invaluable asset if you are looking to build a food business that ensures the highest standards of quality and food safety. The way towards achieving a system that is efficient and profitable can have some challenges along the way, such as, the food safety obligations that must be met. Only a food consultant who has expertise in all aspects of food services and is knowledgable about the entire supply chain can provide best advice and recommendations
Kitchen Flow Training & Management
Food Safety Systems is a company that advises on food service operations from kitchen set up, finding suppliers, training staff, standard recipe development, the right kitchen flow, what is likely to work for your kitchen, and what is not. Food Safety Systems can provide a mystery guest service for your hospitality business or any business where customer satisfaction and retention is vital. At Food Safety Systems we understand that a little advice from someone experienced in the food industry can be a great boost for your business and can save you alot of money, time and effort.
Kitchen Setup
If you are considering setting up a new catering operation, or renovating an old one. We can help with all the details such as kitchen flow, choice of the right equipment, kitchen setup, how many staff to employ, writing rosters, getting suppliers, creating standard recipe cards, and advice on food safety aspects for your particular situation.