Aged Care Services
Why is food safety management crucial for aged care services?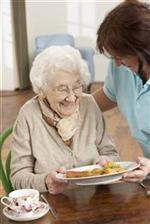 Aged care facilities serve food to the elderly who, as a consequence of generally having a lower immune system, are at a greater risk of contracting an infection, such as food poisoning, so it is vital for these facilities to have a robust food safety program in place.
Food safety in aged care facilities is not only a social responsibility, but it is also an obligation set by the state authorities. The Australia New Zealand Food Standards Code lists the national food safety standards put in place by state authorities. Chapter three of this code mentions the Standard 3.3.1/Standard 3.2.1 that lays down responsibilities pertaining to food safety in organizations that serve food to high-risk groups. The standard 3.3.1/Standard 3.2.1 mandates such organizations like aged care facilities to have a food safety program that is well documented. Such a program can lead the employees in aged care facilities at every step of food production and serving, to ensure that the food is completely free from any hazards.
How can a food safety program help aged care facilities?
For aged care facilities, serving food that is nutritious and completely safe from any hazards is an everyday challenge. In such organisations, food is cooked in larger quantities and it passes through many stages of processing, storage and transfer to reach the tray of the final consumer. This makes the task of food safety management extremely complex. To create a food safety program that is comprehensive and effective, aged care facilities can seek services of a food safety consultant like Food Safety Systems. We help aged care facilities at every step of food safety management, right from designing a food safety program, to its implementation and auditing the food safety program for its effectiveness. Auditing food safety management systems at aged care facilities is a technically challenging task, and requires special expertise and experience. Our food audits are comprehensive and all aspects of food safety management are inspected and assessed.
An equally important aspect of food safety management in aged care facilities is food safety training. We are experts and industry renowned providers of food safety training to staff at aged care facilities. The training is aimed at equipping the staff with knowledge of systems, procedures and practices that will help them serve food to the elderly that is not only delicious, but also completely safe from any hazards. With food safety training, staff at aged care facilities become aware of their food safety obligations and requirements.
Why is Food Safety Systems the right choice?
Food safety management is a tough and complex area of expertise, and only a professional and experienced auditor can effectively audit these systems best. James Shepherd from Food Safety Systems is registered as a regulatory 3rd party auditor for the NSW Food Authority (no. 24733), and Queensland Health, this means he can conduct the mandatory food audits required by these authorities. James also holds the National Food Safety Auditor (level 4 high-risk) qualification from Exemplar Global (no.111946).